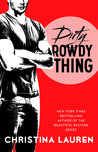 Dirty Rowdy Thing by Christina Lauren
My rating: 5 of 5 stars
Christina Lauren gives good story. Not only do they give a good storyline, they make it H-O-T! So the book wasn't just straight up smut, it had great character development and depth and plot.
This series is just growing and expanding. Finn is the epitamy of rugged, sexy, alpha male. He's definitely going to leave you hot and bothered and trying to guess what's behind his stoic exterior.
Harlow Vega, sassy Latina ginger...odd combination, right?? She actually reminds me if a good friend of mine, LOL. She's smart, funny, and LOUD! My kind of girl! I could see myself hanging with her and Mr. Farley having a beer:p
Not the kind of girl Finn thinks she is either. There is so much more to Harlow then meets the eye. Finn is about to get a dose of it.
Both have "issues" going on in their lives that they're trying to not talk about, and lose themselves in each other, but, it becomes "more". Its inevitable that its going to happen the closer they get.
The book is from multiple perspectives, each chapter is one or the others POV and I though the authors did very well with this, it felt very fluid.
In the background, we have a few side characters that I smell a romance a-brewin' and I'm totally "geeked" out for it!! O.O!
View all my reviews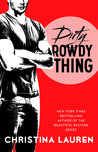 I really liked this book, even more than I was expecting I would. I super adore getting to know all the friends more and more. I appreciate how different each couple is.
Ansel from the first book still pops up some, and I still love him. He's so outgoing and majorly lovable and silly.
"Finn is sweet, and funny and stoic in this way that is totally foreign to me but I actually really appreciate, coming from the Family That Discusses Everything. And he's hot. Dear Lord, you guys. Finn in bed is no joke. And he's not a whiny La Jolla mama's boy, he's a man who was raised to get shit done, and not cry over hangnails. Finn could break your vagina and be just handy enough to put it back together."
"Shh, Poodle. I'm having a Johnny Castle, Dirty Dancing moment right now."

"Is this a good thing or a bad thing?" he asks, bending to lick up my neck.

"I carried a watermelon."

He pulls back and looks at me before ducking to sniff my breath. "How drunk are you?"

"For the love of God, man, I'm not drunk. Get naked or put that mouth between my legs."
The relationship between these two is awesome for the most part. They usually just say what they mean. Not much beating around the bush or miscommunication. They are both going through their own hard times which causes some issues, but there is no denying the pull they have to each other.
"That's because Ansel's over there trying to suck your soul out through your mouth like some sort of Dementor."
There is some drama, but I'm grateful to have characters behave mostly maturely. Great book, and I'm looking forward to more from this series.