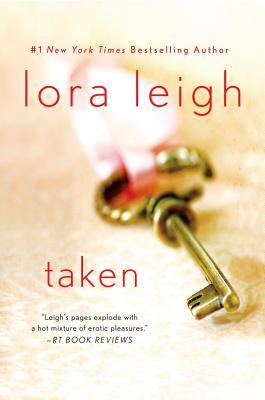 Taken
#1
New York Times
bestselling author Lora Leigh has captivated millions with her sizzling tales. Here, together for the first time, in a short story collection:
Reno's Chance
Ever since she was a girl, Raven has longed for her friend's brother, Reno, a Navy SEAL. What she doesn't realize is that his true mission is to get into her heart.
For Maggie's Sake
Maggie is in custody with Joe's SEALs team. Joe, her ex-lover, thinks Maggie is hiding information. He plans to seduce her to get it, but when an enemy captures Maggie, only Joe can save her.
Atlanta Heat
Em has wanted Macey forever. But as a SEAL under the command of her overprotective godfather, Macey is off-limits…until a kidnapping attempt forces them to share close quarters—and a forbidden desire.
Night Hawk
For three years, Travis "Black Jack" Caine and Lillian "Night Hawk" Belle have been meeting, late at night. No names given. But tonight is different. An enemy has returned, and Travis and Lillian may never meet again. Are they brave enough to give in to desire and stand together?
Cooper's Fall
Former ranger Ethan never expected to get an eyeful of prim Sarah Fox from his window. But now his blood is on fire for her.
Sheila's Passion
As an ex-Marine, Nick's been through some hard things. But when it comes to Sheila, he has his biggest challenge yet. Sheila has sworn off love, but when Nick tempts her into becoming friends with benefits, he intends to make her his forever.
LINKS;
AMAZON
BARNES & NOBLE
GOODREADS
MY REVIEW ~ REBECCA
Taken is a collection of novellas from the Elite Ops, Tempting Seals and Wounded Warriors Series, some of Lora Leigh`s most popular works.
There are 6 stories; Reno`s Chance For Maggie`s Sake Atlanta Heat Night Hawk Cooper`s Fall Sheila`s Passion
As I read these I remembered every reason why I like her books, why these series are some of the best military alpha hot ones out there and why Wild Card (Nathan) is a tattered dog eared paperback from being reread so many times.
My favourite man, oops sorry story, of this collection was Ethan Cooper in Cooper`s Fall. Cooper was just to die for, from his physical description to his protective alpha tendencies to his hot steaminess I was lost all the way. I loved him and Sarah as a couple and as a story but in my dreams this week Cooper is mine.
Night Hawk was the only one that didn`t engage me, Black Jack the book was good but not in this taster in my opinion.
That being said Lora Leigh does love and lust with pure alpha dominant men better than most, she has you hooked start to finish with each book. Either as a small dip your toe into her writing book or a catch up with much loved characters and series book Taken works and is a good addition to her library.
If you haven`t tried her Breed Series then you should, it`s a must have, awesome series!